Auto labels carry invaluable information and thus need to remain fully intact and legible for the life of the product.
---
At LLT Labels, we specialize in automotive labels and solutions for OEMs and their wide range of manufacturing needs. Our selection of auto labels is durable, long-lasting and tamper-resistant. Whatever your application needs, we have automobile labels designed to survive the elements and meet the industry's most stringent standards.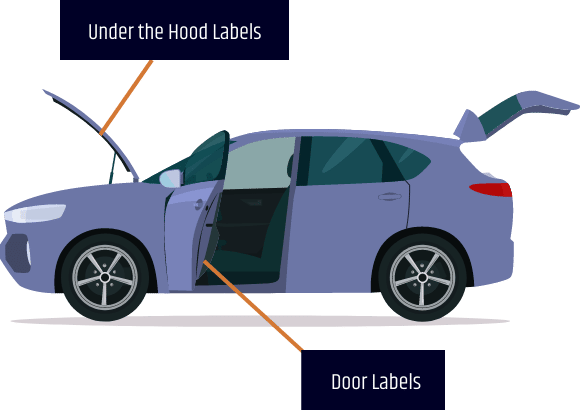 Under-The-Hood Car Labels
Our full line of under-the-hood auto labels has been created to survive high temperatures, vibration, moisture, fluids and corrosive materials that threaten to compromise each label's integrity.
Oil-Tolerant Labels
Adhere firmly to both smooth and textured surfaces.
Require no surface degreasing.
Use an adhesive that absorbs oils, enabling strong adhesion to lubricated surfaces.
Have a service range of -40 ℉ to 212 ℉.
Potential Applications
Inventory labels for steel, automotive parts, etc.
Product labels for cosmetics, foods, oiled woods, etc.
Door Labels
Our door labels are abrasion-resistant and created with reliable adhesives built to last the life of the product. These silver foil auto labels will maintain the desired integrity and branding often sought by industry engineers.
Destructible Labels
Provide a clear indication when fraudulent tampering has been attempted.
Prevent the reuse and re-application of labels.
Come in your choice of destructible labels that break upon attempted removal, text-revealing labels or fluorescent footprint labels.
Potential Applications
Industrial and electronic device packaging identification
Warranty and asset protection
Product warning labels
Automotive VIN labels and security seals
LLT Labels offers durable film labels that have been tested by UL and passed the Federal Motor Vehicle Safety Standards (FMVSS) No. 302 flammability requirements for both aluminum and glass surfaces.
What does this mean? FMVSS302 is a flammability test designated for the automotive industry that measures a material's fire retardancy and burn resistance. It is frequently required for materials used inside a vehicle's passenger compartment. The test is intended to reduce death and injury to motor vehicle occupants caused by vehicle fires.
Reach out for more information about our certified auto labels.