Custom Labels for Electronics & Cords
Standardized electronic material labels allow businesses and organizations to achieve consistent branding, trace shipments, eliminate data redundancies, reduce regulatory costs and improve overall efficiency and productivity. At LLT Labels, we specialize in creating reliable electronics labels to help you seamlessly integrate electronics labeling into the business processes you already use.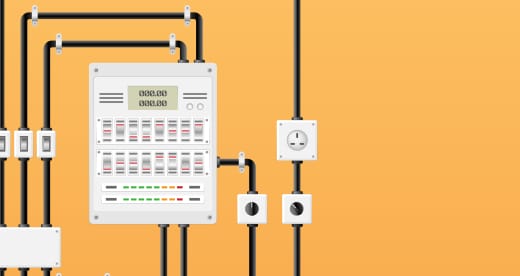 UL Labels
UL is an independent product safety testing and certification organization that has tested products and writing standards for more than a century. Today, it remains one of the most recognized conformity assessment providers in the world. UL's label adoption process ensures fast market access by demonstrating that recognized electronic labels have been evaluated to meet UL safety requirements.
Once an electronics label passes the required UL testing, it receives a UL Recognized Component, UL Listed or UL Classified label, and it can then display a UL Mark.
UL Recognized Component Labels are used on products like power supplies, switches and wiring boards.
UL Listed Labels are used on items like appliances, computer equipment, furnaces, fuses, heaters and smoke detectors.
UL Classified Labels are used only under limited or special conditions.
At LLT Labels, our UL-certified labels are used for everything from switch labeling to transformer labeling.
Our electronic labels are designed to withstand harsh environments, including heat, cold, acid, moisture, UV light and solvents. Combined with the MP690 adhesive specifically developed for durable labeling, these products will tackle your toughest durable film labeling applications, such as:
Appliance Labels
Lawn and Garden Labels
Nameplate Labels
And Chemical Drum and Wet Cell Battery Labels
Category Code Numbers
There are five category code numbers (CCN) that make up UL's Marking and Labeling Systems. Each UL electronics label falls within one of these categories.
PGDQ2
Printed electronic labels die-cut and preprinted to fit your custom needs. LLT Labels partners with approved label converters to manufacture finished printed labels.
PGJI2
Blank or preprinted labels with designated areas to print variable information. This category allows you to print UL labels onsite at your own facility.
PGGU2
Raw material used to make finished electrical labels.
PGIM2
Labels embedded into molded plastic during the molding process.
PGIS2
Labels, cord tags and placards evaluated for compliance with less stringent UL end-product standards. Limited use.
High-Heat Resistant Label Solutions From LLT Labels
From a transformer label to an appliance label, at LLT Labels, we understand how every aspect of electronics labeling has to not only meet but exceed longevity and performance requirements. Our high-heat resistant electronic labels are designed to withstand extreme heat, solder, fluxes, solvents and chemicals used in circuit board assembly. The innovative heat-resistant topcoat also enables excellent ink and barcode printability. And, each electronics label is resistant to both abrasion and ribbon smudging. You can even achieve automatic application with a 2-mil option. Reach out for additional information about our range of electrical labels and other adhesive solutions today. Whatever your needs, we can help with an economical and durable solution. We offer a range of electronic labels to choose from, so you can get the right ribbon, labeling material, size and shape you're looking for.
Reach out for additional information about our range of electrical labels and other adhesive solutions today.
Get a custom solution for:
Appliance Labels
Automotive Component Labels
Device Barcode Labels
Electrical Panel Labels
Electrical Wire Labels
Electronic Labels
Safety Equipment Labels
Switch Labels
Transformer Labels
And Much More