Recreational & Medical Cannabis Labels for a Growing Industry
---
As of 2018, nearly 50 percent of the global cannabis market was used for medical treatment or therapy. As with medical and pharmaceutical labels, recreational and medical cannabis packaging and labels need to be secure, long-lasting and easy to read. At LLT Labels, we offer custom cannabis label solutions that meet cannabis packaging requirements for labels and features superior form and function for a variety of medicinal and recreational cannabis applications.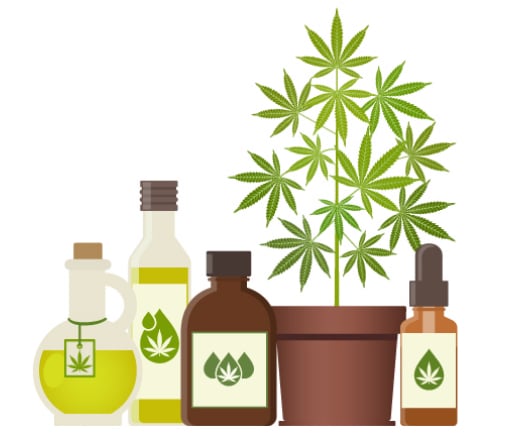 Cannabis Industry Facts
The cannabis industry is growing rapidly, creating opportunities for dispensaries, growers and processors around the country. The following are just a few facts about the cannabis industry in the U.S.
The cannabis market was valued at $10.6 billion in 2018 and is projected to reach $97.35 billion by 2026.
Cannabis first became legal for recreational use in 2012 in Washington and Colorado. As of July 2019, it was legal in 11 U.S. states and the District of Columbia.
The global health and wellness trend is facilitating medical marijuana market growth as well as the use of cannabidiol (CBD).
The three dominant cannabis species are sativa, indica and ruderalis.
The hemp plant, which has a negligible amount of psychotropic substances, is mostly derived from the sativa family and finds extensive application in paper, textiles, biodegradable plastics and fuel. It is also one of the fastest-growing agricultural crops, requiring little to no pesticides, needing less industrial processing post-harvest and creating a low overall environmental impact.

Cannabis Packaging Requirements
A cannabis warning label is required to include certain identifying information and must apply to a variety of packaging substrates, including plastic or glass vials and bottles, clear or opaque poly bags and pouches, and corrugated or waxy boxes. Cannabis labels for both medical and recreational products should clearly identify the tetrahydrocannabinol (THC) concentration through displayed universal symbols. A THC warning label must be applied to product packaging when sold or distributed in states where it's legal. Nutritional panels and potency information are also required on a cannabis packaging label based on Manufacturer-Specified Units (MSU). Labels for cannabis packaging must include the following information:
Common name of the product
Strain and species
Licensee name and phone number
Weight and volume
Licensee number and batch code
Inactive and active ingredients
Allergen information
Nutrition labeling
Potency
Effective THC and active THC
MSU
Universal symbols
Warning Statements
Avoidance of untruthful or misleading statements
Cannabis Label Solutions
At LLT, we've designed cannabis packaging and labeling solutions for all forms of cannabis, from liquid and viscous to solid and semi-solid. And, each cannabis label from LLT can withstand a range of environmental conditions, including moisture, heat and humidity.
When considering the label material for recreational or medicinal cannabis products, one must keep in mind that compliant packaging recommendations include a focus on consumer safety as well as product preservation. Solutions vary depending on the packaging material, type of label and print technology.
For full-color cannabis labels, a customer may choose to have them preprinted by LLT or use an inkjet or laser printer to print on demand at their own facility. These label materials are ideal for marketing, promotional campaigns and color coding for warnings and species specification. For one-color, on-site printing, there are a variety of thermal printable materials that are ideal for labels containing lot and date codes, nutritional information and other general product details.
Whatever your needs, we can help create an economical and durable solution. LLT offers various application-specific types of cannabis labels, including:
Clear or white polypropylene for marketing, branding and promotional purposes
Cannabis warning label solutions and compliant packaging
Peel-and-reseal for poly packages
Tamper-resistant polyester for security purposes
Paper for general labeling
And so much more
Cannabis Packaging and Label Solutions From LLT Labels
At LLT Labels, we specialize in creating complete adhesive solutions customized to your cannabis packaging needs. Reach out for additional information about our range of cannabis labeling solutions and other adhesive products today.