Beer labels not only inform consumers, but they can also be works of art. Your unique craft beer label art tells your brewery's story and reflects the passion and skill you put in every bottle, can or keg. When you personalize beer labels from LLT, the brewery's personality and unique style are visible at a glance — you can go for traditional branding that's beautiful, classy and artistic, or a more modern, contemporary style with a minimalist, hand-drawn, illustrated aesthetic that's fun and unique. Whether you're a new microbrewery just starting out in the business or operate a full-scale award-winning craft brewery, choose LLT Labels for a robust selection of top-quality custom beer labels and stickers for all your craft beer production needs.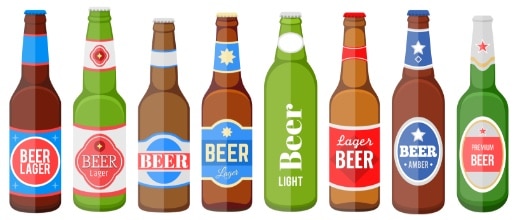 Custom Beer Labels and Stickers
The craft beer industry is booming, so it's more important than ever to stand out. Even if you make the best IPA in town, your craft beer label design can make or break you once you hit the store shelves. Not only do you want your custom beer labels to attract the eye, but they also need to hold up under the harsh conditions that they are subjected to as they travel from the brewery to the consumer. At LLT Labels, we create beer bottle labels that are secure, durable and moisture-resistant — because you deserve beer labels that are as awesome as the products you brew.

Craft Beer Label Design Regulations
Craft beer labels are highly regulated by the Alcohol Labeling and Formulation Division (ALFD) of the Alcohol and Tobacco Tax and Trade Bureau (TTB). They enforce how the producers of craft beer label and market the following classes of malt beverages:
Ale
Beer
Cereal Beverage
Lager / Lager Beer
Malt Beverage Specialty
Malt Liquor
Near Beer
Porter
Stout
The TBB's craft beer label design regulations are very specific and strictly enforced for all bottled, canned and kegged offerings. All beer labels must be approved and receive a Certificate of Label Approval (COLA) before any product can be sold. LLT Labels provides custom beer labels that meet the TBB requirements for size, durability and functionality to help ensure that your labels win approval and your beer releases stay on schedule.
Craft Beer Label Solutions
At LLT, we make custom beer labels easy. Our team works with you to ensure that your experience is extraordinary. They will help you choose the right materials and adhesives to suit your craft beer label design and packaging needs.
You can choose a tried-and-true craft beer label template or create a label that is uniquely your own. Your product choices vary depending on the packaging material, type of label, adhesive and print technology. Our custom beer labels and stickers can withstand a range of environmental conditions, including moisture, heat and humidity.
For full-color craft beer labels, you can choose to have us print them for you, or you can use an inkjet or laser printer for on-demand printing at your facility.
Whatever your needs, we can help create a unique and durable beer label that will set your beverages apart from the competition. LLT offers various styles and shapes of beer bottle labels, including:
Full Wrap
Half Wrap
Beer Neck Labels
Rectangles
Triangles
Circles and Ovals
Scalloped Edges
And more!
Choose LLT Craft Beer Labels for All Your Brewery Needs
We want to help you create custom labels that are as special as your brews. Our specialized adhesive solutions can be customized to your craft beer label production requirements. For bottles, cans, growlers, kegs and more, let's chat about how our craft beer label solutions and other adhesive products can help your brewery stand out.