What Food Manufacturers Need to Know about the FDA's New Nutrition Label
National Food Disclosure Law, commonly referred to as the GMO Labeling Bill, has been passed and will take effect at the beginning of 2017. The bill requires all food manufacturers to list genetically modified ingredients on the nutrition label. A refreshed design will make key information more easily read by consumers. According to responses from surveys compiled by The Center for Food Safety, more than 90% of consumers in the US believe genetically engineered foods should be labeled. Manufacturers have until July 26, 2018 to comply with the final requirements, and those with less than $10 million in annual food sales will have an additional year to make the changes.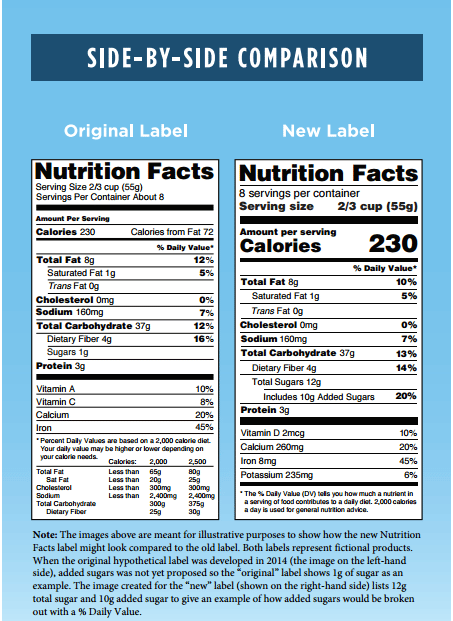 It is critical for food manufacturers and producers to be familiar with the mandatory requirements for proper food labeling.

Key Changes to Nutrition Fact Labels
Bolder and larger font size for "Calories", "Servings per container", and "Serving size"
Footnote will read "The % Daily Value tells you how much a nutrient in a serving of food contributes to a daily diet. 2,000 calories a day is used for general nutrition advice."
"Added sugars", in grams and as percent of Daily Value, will be included on the label
Daily values for nutrients like sodium, dietary fiber and vitamin D are being updated based on newer scientific evidence
Serving sizes must be based on amounts of foods and beverages that people are actually eating, not what they should be eating

Most packaged food products sold and distributed in the US require labels that contain the following information:
The common name for that type of food
Net weight of the product
Producer or Distributor's address
List of ingredients
Nutrition facts
The FDA requires food manufacturers to display key product information so it is easily seen by consumers.
Principal Display Panel: The PDP is the portion of the package label that is most likely to be seen by the consumer at the time of purchase
Information Panel: These labels include the name and address of the manufacturer, packer or distributor, the ingredient list, nutrition labeling and any required allergy labeling
Although there isn't a required font style, the font type needs to be at least size 6 and in good contrast with the background of the nutrition facts label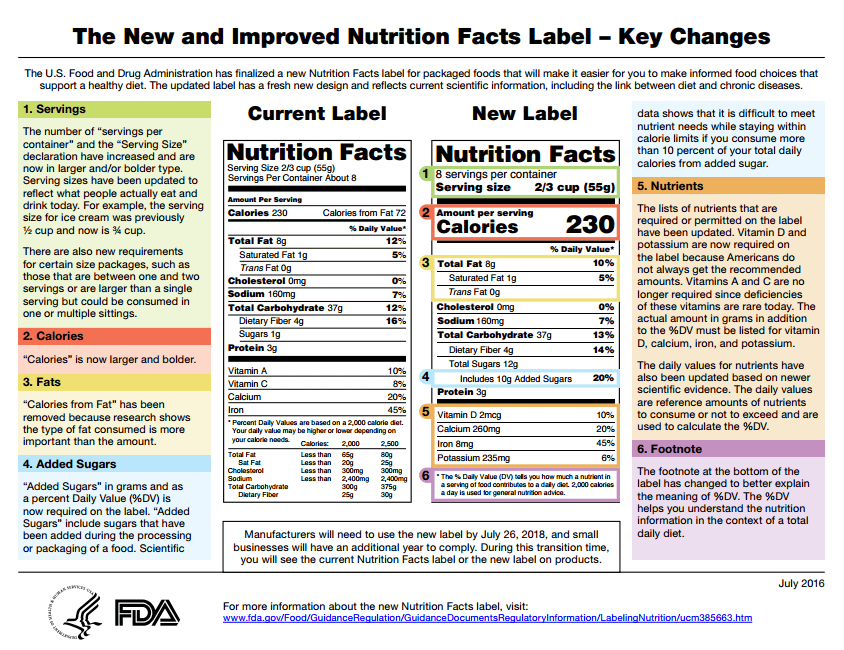 Resource: FDA U.S. Food & Drug Administration, Labeling & Nutrition Guidance Documents & Regulatory Information