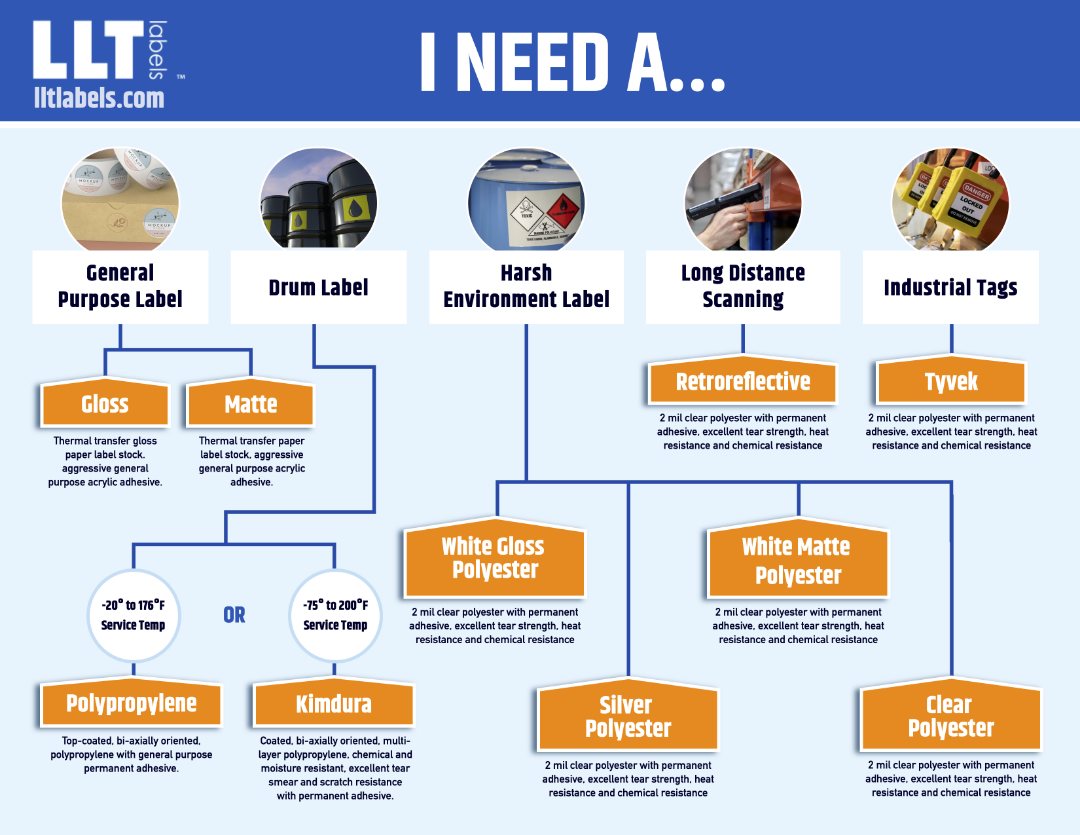 Label Material Components
When choosing a label material, it's essential to remember that every label has three components:
Facestock — the material you print on
Adhesive — the material that makes your label stick to the item you're labeling
Liner — the material the adhesive is applied to
We'll discuss the various facestock choices in more detail below. You can generally choose label adhesive types from options like general purpose, aggressive, removable and cold temp adhesives, among others.
Liners are usually available as paper or film.
Label Material Considerations
As you choose among the various label material types, you'll want to consider the specifications for your application. Your choice of labeling materials will depend on the type of surface you need to adhere to, such as:
Corrugate
Paper
Packaging films
Plastics
Metal
Glass
Environmental conditions are another critical consideration for labeling materials. Each condition influences the type of label you need to choose. Does your label need to resist:
Bright light
Extreme temperatures
Harsh weather
Abrasion
Moisture
Oil
Alcohol
Grease
All of these environmental factors should be known before you make your decision. Other considerations include whether your labels need to be tear-resistant, tamper-proof, fluorescent or frequently repositioned.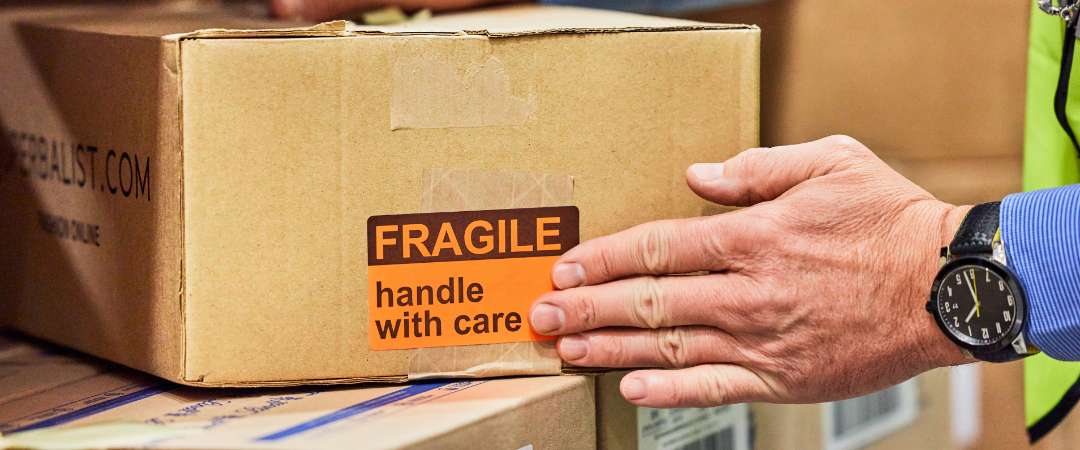 5 Types of Label Material
The subdivisions among the different types of label material are nearly endless. But label types can generally be identified using five broad categories:
Matt or Gloss Paper
Polypropylene
Kimdura
Polyester
Tyvek
Most are suitable for surfaces like paper, corrugate, many plastics, packaging films, stainless steel and glass. Their outdoor durability depends on exposure conditions. Read on to discover the properties and uses for each of these label types.
1. Matte or Gloss Paper Labels
Whether you choose a gloss or matte finish, our thermal transfer paper label stock offers an aggressive general-purpose acrylic adhesive. It's well-suited for indoor applications with a wide range of lighting conditions.
Minimum Application Temperature: 25° F
Service Temperature: -65° to 200° F
2. Polypropylene Labels
LLT Labels' polypropylene label material is top-coated and bi-axially oriented, featuring a general-purpose permanent adhesive. Polypropylene is an excellent choice when you need the glossy finish but not the durability of polyester.
Application examples include package labels, drum labels, item tracking labels and asset labels. They're well-suited for moisture-rich environments and curved surfaces. They last six months to a year in outdoor conditions and have a very slight stretch.
Minimum Application Temperature: 23° F
Service Temperature: -20° to 176° F
3. Kimdura Labels
This label material is a coated, bi-axially oriented, multi-layer polypropylene featuring a permanent adhesive. A Kimdura label is resistant to chemicals, moisture, smears, tears and scratches. It's suitable for item tracking, drum or package labels and is great for curved surfaces. Kimdura labels offer six months to one year of outdoor durability and have a slight stretch.
Minimum Application Temperature: 32° F
Service Temperature: -75° to 200° F
4. Polyester Labels
LLT Labels offers several UL-recognized, 2-mil polyester labeling materials with excellent tear strength and resistance to chemicals and heat. Your options include white matte polyester labels, white gloss polyester labels, clear polyester labels and silver polyester labels.
Our polyester options are fantastic for harsh environments with high temperatures and exposure to rain, sun, grease, oil and alcohol. They provide very high abrasion resistance and offer over three years of outdoor durability.
Minimum Application Temperature: 25° F
Service Temperature: -40° to 300° F
We also offer a 5.5-ml retro-reflective polyester film that reflects light back to its source for long-distance scanning applications, such as warehouse rack location and aisle labeling. It provides two years of outdoor durability and excellent tear resistance.
Minimum Application Temperature: 45° F
Service Temperature: -40° to 300° F
5. Tyvek Labels
A tough label material made of polyethylene fibers, Tyvek is lightweight, strong, smooth, flexible and opaque. Tyvek labels resist aging, water and chemical abrasion. They're well-suited for use as industrial, textile, law, security, product ID, shellfish, seed bag and tree/nursery tags. They last six months to a year in outdoor conditions.
Minimum Application Temperature: N/A
Service Temperature: Up to 176° F
Label Material Applications
LLT Labels offers its wide range of label materials for a complete selection of highly customizable labels, including:
Thermal labels
Laser and inkjet label sheets
CHILL AT freezer labels
Industrial labels
Food and beverage labels
Healthcare labels
Safety and security labels
Transportation labels
Trust Your Label Material Needs to LLT Labels
Backed by years of experience, LLT Labels has the label material expertise and knowledge you can rely on. Our commitment to exceeding customer expectations means you get high-quality labels and exceptional service. Request a quote today for the best labeling materials for your application.
Related Articles