LLTLabels.com is Officially Live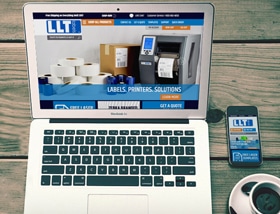 Thank you for visiting our new website. You have probably noticed already that a few things have changed. With the update to our new site, we have re-branded LLT Bar Code & Label simply as LLT Labels. While we do still offer barcoding equipment, this simple transition in our company name makes a big change on our focused effort in providing you with the best quality labels the industry has to offer at competitive prices.
Some of the other changes include our email addresses and website address. Please bookmark the new LLTLabels.com as one of your favorite pages.
Also, update your contact list to include our new @lltlabels.com emails.
New Site Features
Finally enjoy all the benefits of our new site! With LLTLabels.com being available on all devices, you no longer need to wait to be back to your computer to check the latest from LLT Labels. We have also added an easier checkout process which now includes a reorder function. Do you have contract pricing set up with LLT Labels? You can now also view your pricing and order your labels on-line.
Already a customer of our old site? No problem, simply click on this link to re-register your email address and our system will find your current account.
Any other questions? Click the "Live Chat" above or call 800-882-4050 and we will be happy to help.